Posts Tagged 'mental health'
October 9, 2017
In February 2017, I was able to see the Bowen building on the grounds of the old Peoria State Hospital for the very last time. As of now, I don't believe I would be able to bring myself to go back; knowing the Bowen building is no longer there. There are photos sprinkled about the Internet of the demolition of a truly magnificent building that should have stood for the rest of time. It's a numbing feeling knowing all of the hard work and compassion that was infused into the building and the grounds for the sake of everlasting effects now remain within a faint memory. A lot of people have been fighting for a long time to get the Bowen building to disappear. Lack of money is what originally closed the asylum in 1973. Lack of money is what ultimately met the Bowen with its demise 44 years later. It's saddening to think about what the great Dr. George Zeller would think; to see this melancholy story of a lifetime almost wiped clean for no real good reason at all.
Where a lot of controversy surrounded the saving of the building and the reasoning behind it, my heart truly breaks for the Weiss family. Over the last 10 years, Richard and his daughter, Trish put in endless blood, sweat, and tears, attempting to restore the massive building and bring attention to its saving. It must be said that while they were attempting this overwhelming feat, they were catching considerable criticism for their true intentions. Richard and Trish wanted to save the building for its historical history but quickly discovered that the public was much more interested in the paranormal stories as opposed to the historical stories. Offering both paranormal and historical tours of the Bowen, they also found that the paranormal aspect actually brought in a little bit of the money they so desperately needed. A loan was taken out with the village to remove the asbestos so they could hold indoor tours. The loan, however, was given under certain conditions and a timeframe. Three years to make enough money to not only repay the $300,000 loan but to also continually progress in the renovation process. While they may have brought in more from entities like the TV show, Ghost Hunters, their individual tours at $5-10 a pop would have never brought in enough money to repay the loan. And in my personal opinion, the village knew this and planned on it when they gave the loan. Someone with deep pockets could have surely saved the building but some question if it would have even been worth the trouble with so much bureaucracy surrounding it. Still receiving criticism for using the paranormal aspect to try and save the building, Richard and Trish knew that they had to do what they had to do if they would have a fighting chance with such a time crunch. It wasn't as if they were boasting around town that they had a haunted building they'd like you to see. They pushed the historical aspect and knew their history so they could give genuine educational tours of an incredible place deserving so.
Richard worked in the mental health field for many years so he could truly appreciate what the Bowen had to offer. This was long before he had learned of its ghost stories and the folklore surrounding the history. He also knew that if he didn't try to save it, no one would. It had already been sitting empty for centuries and by the looks of it, would continue to decay. In a 2011 interview with me, Richard's eyes glimmered with hope as he said, "I just couldn't see it be torn down." The sparkle in his eyes could imagine all of the plans for what the building could possibly become. There was talk of the ballroom for weddings on the top floor, a hotel on one or two of the floors, a restaurant, and a historical museum. And let me tell you, it would have worked. That building was beyond colossal and people would have come from all over the world to experience an aspect of it… be the ghost stories or not.
I'd like to personally thank both Richard and Trish for their bravery in creating the Save the Bowen, Inc. foundation and donating so much of their lives to something that they saw needed to be saved. They kept hope alive that maybe the Bowen would breathe creative, positive light in the dawn of a new future. I will forever miss it and my heart will never stop breaking over how things transpired.
July 3, 2016
If interested in a DVD of FOR THE INCURABLE INSANE, use the "Donate" button located on the "DONATE" page to purchase.
Use the paypal donation link on the DONATE page – include your information (name, mailing address, email, phone) with your payment
$15 + free shipping
$5 + free shipping for those who previously purchased the $1.99 stream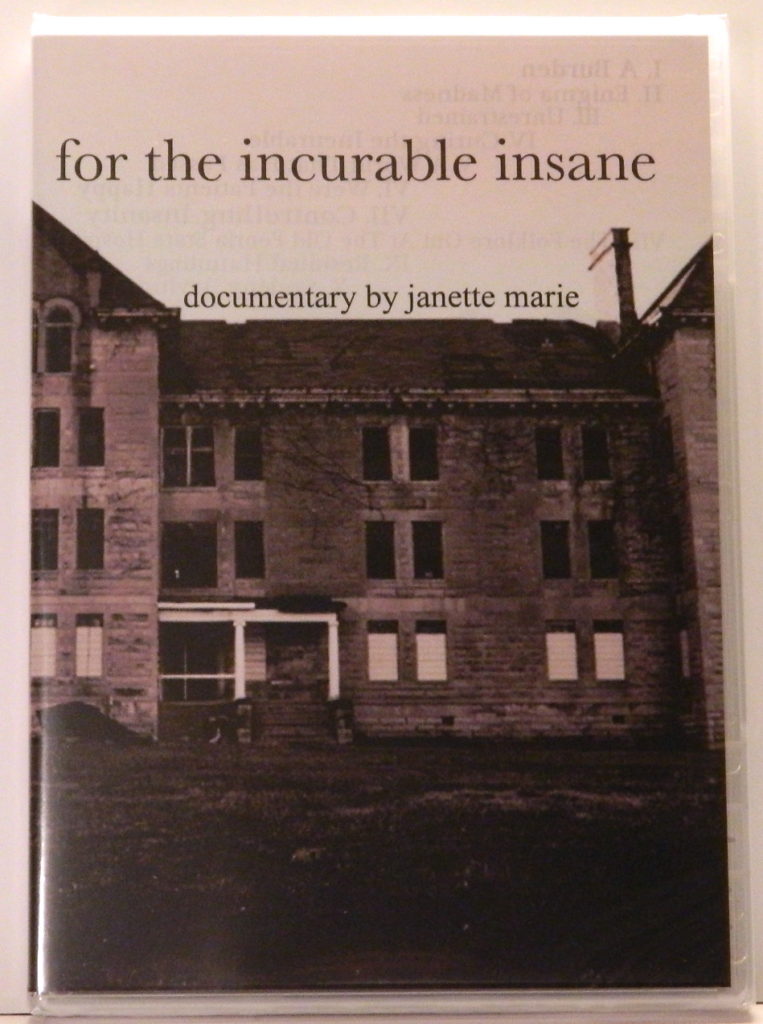 April 27, 2014
Late 2012, I held the first preliminary private screening for the interviewees of the documentary… to let them see what I had been working on for the entire year since we had first met. From the very beginning of my research, ultimately, I knew that the film would be too long; and I knew that shortening would pose as the most difficult of all tasks faced. But straining myself to cut it down to 2 hours and 35 minutes, it really was still too long. Stories that I had planned to include were omitted completely. Such interesting and important parts of the story as a whole; it was heartbreaking to fall in love and not share it all.
What I thought would only take a matter of a few months actually took additional years. There seemingly were never-ending minor mistakes that kept popping up at every hidden corner as statement after statement had to be chopped. Months upon months were spent watching the film over and over, searching for any type of mistake, all the while jotting down notes and time codes that could afford to be cut. But somehow, even though my list would dwindle, there would always be some "correction needed".
This brings to mind watching a movie and catching a mistake in the production, editing, or spelling. And it's like, "Come on, guys. How didn't anyone catch that?" But one would be surprised at how difficult it can be to catch all of the minor mistakes that can arise in a two-hour production; especially when working alone. "Final drafts" would be burnt to discs to only find two minor mistakes upon reviewing the copy. "How can this be?" I would question myself. A misspelling for two seconds on a title card and a tragic sound- a mysterious "beep" in the rendered version… "WHY?" I would ask over and over, as the only choice I could make was to open up the editing program and target the issue. It's been a brutal game I've been playing and even though I feel confident that I caught 99% of the mistakes… there's always that haunting 1%. I suppose this rings true to any artist… one must pull the plug and eventually finish. You can't work on a project forever; and working on it forever certainly doesn't always make it better than it could have been.
Then there's always the attention to detail which has definitely overwhelmed me on numerous occasions. One clear example off the top of my head- I was filming the memorial bricks Bill Turner erected for some of his former patients. It was really windy that day and for anyone who knows what the campus of the Peoria State Hospital looks like, there are millions of leaves from the plentiful trees on the grounds. Just so beautifully, there was a decaying leaf placed so perfectly catty-corner to the brick I needed to film. And although perfectly natural, it also could have been thought as arranged that way. I thought to myself, how anal am I going to get here with the attention to detail in this film? To move the leaf or to not move the leaf… that really was the question. I decided not to move the leaf although it appeared to be a thought out detail. On the contrary, when filming some of the gravestones, leaves covering the engravings or clumped in unsightly piles had to be moved. Where it seems like a silly thing that was over-thought, I tried to think of everything to help anticipate any issues that I knew would arise.
The interviews were more difficult to come by, as I was working on the fly. Yes, I was able to location scout, but all of the locations I planned to use didn't end up working out. Back-up locations and times were arranged and I did my best to make the foreground as well as the background visually interesting. The weather was brisk and for most of the interviews, we were out there for approximately two hours filming each. Wind was an issue, so were the clouds, the sun, the rain, the fog, car alarms, the traffic, the people… there were many outside elements that disrupted the peaceful flow of the production. Shooting on-location brings those elements into the equation and so, the best thing I could do was to pause the filming when a loud truck passed, reschedule an interview due to the wind, relocate an interview due to the rain, reschedule b-roll shooting due to the fog, re-asking questions due to interruptions… Even though many measures were taken to preserve the footage, there were some answers I couldn't include as a result of 'sound damage'. A car alarm in the background of one of the interviews ruined some parts that I really needed to keep. And where I asked them to repeat a really important answer that I favored, some were just lost in the jumble or lacked the same conviction the second time around. In this case, in particular, I tried to lay heavier on those ruined answers of questions when conducting the proceeding interviews. Doing this, I was hopeful that new answers would make up for it and give me something I knew I could use when editing.
Still, now after these years have passed, the release of the film is finally upon us. What I had planned to release in 2012 has now aged two years. My work focused on the attention to detail has been consistent and although treading has been lengthy, it has been absolutely necessary. I thank those who have been patiently awaiting the release. Stay tuned!