Posts Tagged 'bartonville'
November 11, 2014
Are you interested in seeing FOR THE INCURABLE INSANE? Would you like to view the film in your own town? Are you a teacher potentially interested in using this film in your classrooms? Currently, I am contacting libraries throughout the state of Illinois to host screenings of this documentary for entertainment and educational purposes. On a donation basis, ticket sales will go toward both the production and push of the film as well as to the Save the Bowen Foundation.
After the new year, the documentary will be available for pre-sale on DVD.
FOR THE INCURABLE INSANE is a two-hour documentary film composed of empathy, anger, cruelty, and hope. Offering insight to the social issues surrounding long-term mental illness and treatment, the film looks at the intimate history of the old Peoria State Hospital abandoned in Bartonville, Illinois. At the turn of the century, the Peoria State Hospital was opened in 1902 as the Illinois Asylum for the Incurable Insane. Revolutionary in its day, this documentary examines the history of the treatment of the mentally ill in America and how this asylum was changing the game. Dating back to the mid-1800s, asylums were sparse and insane family members were locked away, usually hidden from the public. Some still believed in witchcraft, the devil and hexes, and all of the folklore that went along with the ignorance of what mental illness truly was. Remembering the forgotten stories of previous patients and employees, FOR THE INCURABLE INSANE admires the life's work of Dr. George Zeller and questions our current broken mental health system. Using education to generate compassion and understanding, perhaps those who view the film will find a more open mind to acknowledging those who are less fortunate as well as taking an active roll in saving pieces of our history, like the Bowen building on the grounds of the asylum.
Dr. Zeller believed in many different kinds of humane treatments, including hydrotherapy. Throughout my research and interviews, some believed hydrotherapy to be one of the cruel treatments. However, most can attest that soaking in a jacuzzi can be very calming. Manic episodes were soothed as patients would be submerged in tubs covered with canvas. Regardless, Zeller's life's work was about treating the patient as an individual, embracing their oddities, and upholding the golden rule. He and his wife never had children but Zeller was always viewed as a father figure to so many unloved and forgotten "children".
Here is a newspaper article from March 10, 1935, showcasing Zeller and the old "methods of treatment" he abolished when becoming superintendent.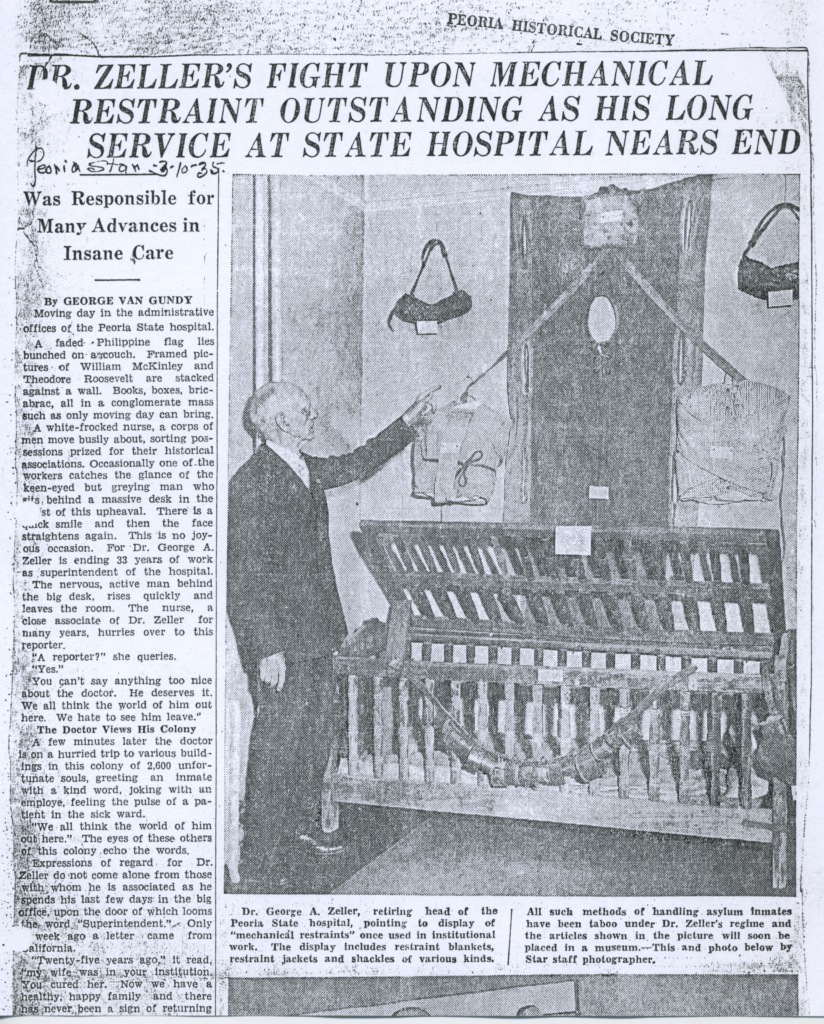 July 8, 2013
After receiving my Cinema degree, it quickly became apparent that I needed to work to survive.  No time was allowed to work on the projects I wanted to work on.  There was laundry to do, errands to run, jobs to work… absolutely no time to even begin the beginnings of research to make a documentary.
Then tragic fate happened and I was given the gift of time.  Years ago, I underwent emergency knee surgery and never fully recovered as I was diagnosed with a couple of rare degenerative joint disorders.  When I was unable to work at my job because I could not walk, it was difficult not to fall into a deep depression being young, disabled, and without insurance.  I needed to occupy my mind with something positive to make light of my situation while I desperately tried to find a surgeon who could and would perform an experimental, speciality knee surgery.  I was finally able to work on the passion project I so needed to be working on as time was running out for the abandoned buildings on the grounds of the asylum.  My downtime was meant to be even though I wish deteriorating health upon no one just to be given the time to work on your passion project!
Time is all that research needs.  And my time went straight to scouring the internet.  I found archive databases, which provided me access to use important historical photos.  Various websites gave me all kinds of different information on the facts and myths surrounding the asylum.  Repeat names of the living found themselves on my potential interviewee lists.  But the internet only could take me so far.  I needed to go to the Village of Bartonville and research further and I needed to find people who were knowledgeable of what was truth and what was myth.
Donations from believers made the production possible.  My mother flew me from Los Angeles to Chicago so I could go down to Bartonville, Illinois to do extensive research on the Peoria State Hospital.  I spent hours going through files and annoying the library personnel.  But my time was very limited and the stacks of boxes and binders weren't shrinking.  I combed through the files and photos like a mad woman, looking for anything that went along with the internet research I had already been conducting.  Those files were then marked with post-its and put back in its proper file.  Once I realized I only had about an hour left, I needed to get over to the copy machine.  There was no time for coins; I needed the key.  In a mad dash, I threw papers around in an organized fashion, making plenty of noise, as the machine was anything but subtle.  I hadn't gotten through all the files and after getting back to Los Angeles, I felt an itch to get back to Bartonville to see what I had completely missed out on.  It took months to go through all the scans and they left me with even more questions and more to research to do.
I had to figure out how production was going to go down.  That's when budgeting began and necessities mapped out.  I needed a camera and a crew.  If I shot most of the interviews outside, I could eliminate the need for production lights, thus, cutting costs drastically.  Knowledgeable interviewees and friends and family who would be willing to work for free needed to be sought out.  Craft services needed to be home prepared and all the production chairs definitely weren't going to match.  It was determined then that the camera and sound equipment would be the biggest cost for the production.  I knew if I could get the camera donated for one week, I could make the film happen financially.  That's when I believe my good karma came into play.  I was able to write to many people and found someone who believed in the project and donated equipment on the grounds that the film would come to a completion.
When I returned to Bartonville for the week of production, I had to set aside some time to get my hands on those files I had missed the year before.  To my surprise, someone had donated their time to reorganizing all of the Peoria State Hospital archives on file at the Alpha Park Library.  Everything was labeled and any additional information known was attached to the document or photo.  Unfortunately, I found many files that I had scanned the previous year were now missing, specifically older documents; documents so delicate, they were literally falling to pieces.  One of my favorites was an old receipt with Dr. George Zeller's original signature.  To think that the legendary Dr. George Zeller held that piece of paper was surreal as it was so casually filed away between two pieces of white computer paper.
The donation of time from my crew helped tremendously.  They helped me set up, tear down, ask questions, comb through files, pick up, hold, push, pull things… they were incredible!  But I was running the show, and it wasn't always the picnic it sounds like it can be.  All the decisions had to be made by me and at times, it was very overwhelming.  It was in these moments, I realized why some filmmakers chose to work in pairs.  However, lone decision-making would give me my own film and I was determined to make it work and power through to the end.
This entire blog describes how I have gone about making this documentary that has grown so dear to my heart.  You too can make a documentary if you just put the time and passion into it!  In turn, it could perhaps change the world.