A simple notion easier said than done.  Production is impossible without Pre-Production.  Naturally, beginning this documentary, I found difficulty in settling on a solid starting point.  "There's so much to research, so much to say," I would tell myself.
Many wonder why one would come to the decision to make such a film about an old abandoned insane asylum's history.  My interest in the Peoria State Hospital happened accidently; stumbling upon its incredibly dwarfing architecture almost ten years ago.  Upon receiving my Bachelor's in Cinema, a short documentary senior thesis was required with a strict 20-minute limit in a brief turn-around time.  Where my thesis could attempt and fail at appropriately shining full light on this unbelievable story, I decided to research it to its full extent with my own deadlines to share it with the world.  But the reason "why" still goes unanswered.
This documentary will help YOU understand exactly that.
The stories grow on you.  Their stories will grow on you.
Once an idea is in place, prioritizing the pre-production phase is next.
What must be said?  What will make the public care about what I care about?
When learning about the asylum more in depth, each passing tale made my intrigue boil over.  Pulling all nighters, buried up to my neck in open tabs, post-its, sheets upon sheets of research and notes, photos and production ideas and theories… oh my!  Will I ever come to a stopping point?  The research would suck me in and sometimes leave me even more baffled than beforehand.
Filtering, deciding… Always asking, what needs to be said?  What needs to be felt?  What needs to be retained?  What is the message here?
No question, family members of former patients would be the most difficult interviewees to find.  How could they agree to share such a personal story with me, let alone, the world?  Out of everyone who would be a part of this film, the real stories of the real people who once lived here took the cake when crowned top priority of the film.  The project craved personal, unknown stories, as was the case of so many of the asylum's residents.  The true broken hearts.
They were the unknown.  They were the forgotten.
Among the many brilliant interviewees, the project was most blessed to find, Ms. Christy Lockstein, who traveled from Wisconsin to central Illinois to interview with me.  Her emotional story of her great-great grandmother and great-great aunt's admission into the asylum broke our hearts.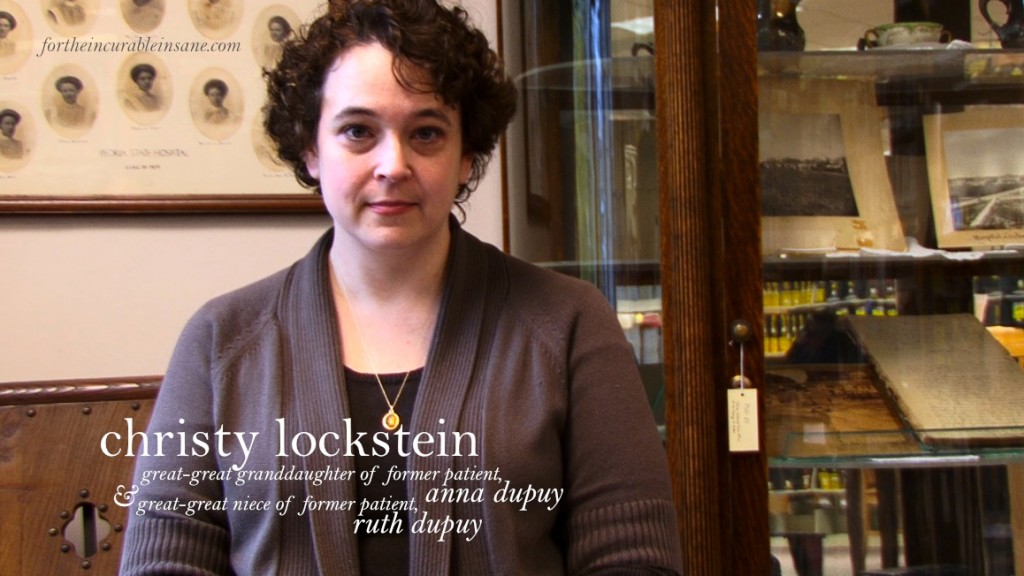 Christy concluded with, "Thank you for letting me give her a voice."
Thank you, Christy, for sharing such a significant and awful lesson of humanity.
Hopefully the world's heart will break with ours for the love of Great-Great Aunt Ruth and Great-Great Grandma Anna Dupuy.